The NBA released the 2011-12 schedule, or what Amar'e Stoudemire's doctor calls "The Great Cartilage Death March." It's just one more signal that the NBA is almost upon us, and that means it's time for fans to pony up for NBA League Pass.
This season will feature more top-flight NBA basketball than you can possibly take in: a full season of Carmelo's (or are they Amare's?) Knicks, and return of favorites like Heat Part Deux: This Time It's MORE Personal, Grumpy Old Men: The Boston Years, The Wire References: An Oklahoma City Story and more. These are League Pass gems, the teams we need to watch.
But it also means it's time to fall in love with things like Louis Scola's shotfake and JaVale McGee's endearing penchant for dribbling in the open court and trying to block his opponents warm up shots. These are the guilty pleasures. You may not admit that you like watching them in Daily Dime Live, but you can't help screaming "Dagger!" when Jerryd Bayless hits a pull up three with 19 seconds left on the shotclock.
Here to preview the wide range of emotion and competence you'll find this NBA season, is the HoopSpeak Live crew, with special guest Peepin' James Herbert.
If you want to tell us how wrong we are, find us on Google+ tonight, we'll be having a hangout around 9:30pm ET to talk it over! (That means you need to add us) 
James Herbert
Gem: Memphis Grizzlies

It's really easy to root for a team with Tony Allen and Zach Randolph in the starting lineup. And you remember how much fun they were in the playoffs last season? Add Rudy Gay.  
Part of the reason Memphis's run was so enjoyable was the fact it was so unexpected. I wouldn't have thought Mike Conley would become an above-average PG. I didn't imagine Tony Allen ever turning into a passable offensive player. And while I'd been an irrational Darrell Arthur supporter for a couple of years, I wouldn't have bet on him becoming one of the most dependable backup bigs in the league. Going into the Spurs series,almost no one picked the Grizzlies to win. Now they have expectations. I want to see if they can deal with them.
(Bonuses: The excellent in-game music at the FedEx Forum, the occasional Hamed Haddadi sighting, Josh Selby garbage time dunks.)
8 Games to circle:
What I looked for: Matchups with good teams, rematches from last year's playoffs, and late-season games where playoff positioning will be at stake.
Dec. 26: @ SAS

Dec. 28: vs. OKC

Jan. 1: @ CHI

Mar. 13: vs. LAL

Apr 2.: @ OKC

Apr. 4: @ DAL

Apr. 12: @ SAS

Apr 21: vs. POR
Guilty Pleasure: Minnesota Timberwolves

I don't care if this seems like a trendy pick, I can't wait to watch this team. Minnesota was a League Pass guilty pleasure for me last season — along with Kevin Love's consistent brilliance, there were early stretches where Ifully believed in Michael Beasley and had to ponderwhether or not Darko Milicic was turning the corner. It didn't take long to see that it was going to be an awful season, but I kept tuning in, cringing as Jonny Flynn coughed the ball up, Darko missed lefty hooks, and the losses kept piling up. Yeah, I became extra-interested once Anthony Randolph joined the team. What of it?
Now, the Wolves might not even be such a guilty pleasure. Rambis's triangle is no more, replaced by the proven Rick Adelman-Brad Miller combo. Ricky Rubio's finally here, with plenty of scorers around him. They might not be able to stop anybody, but they'll be much more competitive than they were last season. And even if Minny is in the West's basement again, what makes this version of the team so compelling is the multitude oflittle storylines there are to follow. Beyond the "Will Rubio playwith confidence?" and "Will they show enough promise to keep Love around?" questions, I'll be watching to see if Wesley Johnson can develop significantly as a 24 year-old soph. I'll be hoping for Malcolm Lee to crack the rotation as soon as possible. And perhaps at some point David Kahn and Adelman will butt heads, leading to Adelman trotting out a starting lineup composed entirely of 6-8 to 6-11 guys. This would be my dream. Anthony Randolph would play point guard.
8 Games to circle:
What I looked for: good point guard matchups for Rubio, fast-paced teams, teams that shouldn't blow them out. Also, pre-All-Star Weekend games are better with non-playoff teams because they still have hope.
Dec. 26: vs. OKC

Jan. 8: @ WAS

Jan. 30: @ HOU

Feb. 11: vs. NYK

Feb. 19: vs. PHI

Feb. 28: @ LAC

Mar. 1: @ PHX

Mar. 19: @ GSW
7 League Pass Darlings: OKC, MIA, MIL, LAC, MEM, MIN, [Team Chris Paul plays for]
I'll address the Bucks pick: I'm aware their offense has been atrocious. I'm aware I left out some really good teams. But they're hardly ever on national TV and I love 95% of the roster. They have a chance to be vastly improved this season, too. Obviously, this list changes if Steve Nash gets traded. It's really difficult leaving the Suns out, as-is. Also, killing me to not include the Spurs. Duncan and Ginobili are going to retire sooner than any of us are ready for, and we're going to realize we didn't appreciate them enough when they were around.
Ethan Sherwood Strauss:
Gem: Miami Heat
I don't care if they're on national TV a lot. Give it to me again! Give it to me again! Give it…to me…again! Miami was in "my seven" last year and the choice paid off handsomely. Yes, the team is well covered by the media, but our constant Heat-gabbing sometimes obscures: Holy hell, LeBron James, Dwyane Wade and Chris Bosh are on the same team!
The novelty of this can give way to a prosaic-seeming familiarity, but the odd thing about League Passing Miami is that your appreciation heightens with more Heat exposure. It is easy to dismiss this team as an overstuffed media narrative if you only watch a few TNT-ESPN excerpts. It's much harder to shrug them off if you're consistently watching this defense work in concert to strangle opponents like so many constrictor coils.
8 Games to circle:
Jan 10: @ GSW

Jan 17: vs. SAS


Feb 14: @ IND

Feb 17: @ CLE

March 6: vs. NJN

March 13: @ ORL

April 3: vs. PHI

April 6: vs MEM
Guilty Pleasure: The Bulls

Chicago is my guilty pleasure due to Derrick Rose. In public, I chastise you people for getting caught up in the visceral thrill of his scoring acrobatics. "There's more to basketball" I tut-tut. "He's really the fulcrum of that top defense" I sarcastically sneer.
In private, I'm retreating to the basement in the dead of night and watching 2011 Bulls clips. Better believe my couch faces the door.
Because you can't resist Rose. He will beguile you–no matter how coldly analytical you pretend to be. Look at him fly towards the hoop, both hands behind the head so that his body forms the silhouette of a striking cobra. It's beautiful, vicious, athletic poetry. For a brief moment, I forget Dwight Howard exists.
Like the hoary "I read Playboy for the articles" excuse, I pretend to appreciate Chicago as a connoisseur of defense. "Oh my, look at them switch! What a deft ballet!" "It's ASH-EEK, not ASS-ICK, you rube." It's all a charade, I'm checking my watch through Chicago's stingy second unit, waiting for another one of Rose's high-speed contortions. I might hide behind the occasional Win Share, but I'm just as depraved as all of you monsters. D-ROSE FOR MVP OF GUILTY PLEASURE! 

8 Games to circle:
Jan 1: vs. MEM
Jan 11: vs. WAS
Feb 18: vs. NJN
Feb 28: vs. NOH
March 5: vs. IND
March 16: vs. POR
March 28: vs. ATL
Arpil 2: vs. HOU
League Pass Darlings: MIA, CHI, LAL, DAL, NJN, CLE, CHA
Loaded up on mostly hyped teams. I follow the buzz. Cleveland and Charlotte were about rookie viewings, New Jersey was a bet on some post-trade relevance.

Zach Harper
Gem: Oklahoma City Thunder

Let's be honest. The reason most of us want to watch this team isn't because they have ridiculously fun players to love (although they really do when you factor in Kevin Durant's incendiary scoring touch,James Harden's beard of fire, Eric Maynor getting busy, Serge Ibaka and defensive nature, and Russell Westbrooks explosive repertoire that is kind of sexual and violent). It's because they have ridiculously fun players that we also love to criticize.
For a while, it was people claiming James Harden was a mistake with the third pick when Stephen Curry and Tyreke Evans on the board. Then we actually watched him play and realized he might be a top 10 pure scorer in the game. Now, it's us wondering if the losses are on Durant or Westbrook, and ultimately just blaming it on Scotty Brooks' play-calling and Westbrook's closested affinity for going all Marbury without the Vaseline.
This season, they're going to be under a massive spotlight. KD became everybody's darling this summer. Westbrook can't seem to make the right decision, even if he really does. And the role players around them have to step up every night in the playoffs if they want to finally cash in on our title aspirations for them. PERFORM PERFECTLY OR WE MAY SMITE THEE!
8 Games to circle:
I looked for games against their past playoff foes like Memphis, Dallas and the Lakers, but mainly I looked for great point guard matchups for Westbrook to be critcized for and great wing defenders that will make it tough for KD to score against. The game against Golden State was me assuming that Durant and Monta Ellis each drop 45 or more.
Dec. 28: @ MEM

Jan. 3: vs. POR

Jan. 14: vs. NYK

Feb. 7: @ GSW


Feb 22: @BOS

Mar. 5: vs. DAL

Apr. 1: vs. CHI


Apr. 22: @ LAL
Guilty Pleasure: Los Angeles Clippers.

I'm not going to pretend that they're really a good team — not yet at least. They showed us a very fun January when they were winning our hearts and Blake Griffin was baptizing anybody who had accidentally wondered under the basket. But then February hit and they had to play a lot of games on the road. Everything fell apart for them and we were left with the same taste in our mouths that the hopeful Clippers teams of NBA past always leave behind. We wanted more. They had potential and we wanted them to break through the Donald Sterling stink.
The problem is this cloud of despair and slumlording that Sterling has peppered this organization with is often too severe to overcome. However, THIS YEAR WILL BE TOTALLY DIFFERENT. Or at least we hope it will. Regardless, we get to see if Blake Griffin can improve on his YouTube explosion and overall impressive "rookie" game. We get to see how Eric Gordon's prison angry nature when driving to the hoop will be improved upon with floaters, step-back jumpers, and smothering athleticism.
If they get to keep guys like Eric Bledsoe, Al Farouq-Aminu and DeAndre Jordan, we get to see how ready they are to step into a consistently competent role. But most likely, they're my guilty pleasure because they're going to get Chris Paul and you always watch the team that employs Chris Paul. ALWAYS.
8 Games to circle:
I tried to pick games against top power forward matchups. They had a fun one against Kevin Love last season. The game against San Antonio is so early in the season that Duncan should be fresh and Manu-Gordon will be all of your fun. Their litmus test against the Lakers should be a great atmosphere and they end the season on ESPN at MSG.
Dec. 28: @ SAS

Jan. 10: @ POR


Jan. 11: @ MIA

Jan. 25: "@" LAL

Feb. 13: @ DAL

Mar. 5: @ MIN

Apr. 11: @ OKC

Apr. 25: @ NYK
7 League Pass darlings: OKC, LAC, MIN, HOU, LAL, CHI, BOS
I think my teams are self-explanatory. Thunder and Clippers I explained above. You have to watch every game of Kyle Lowry to truly appreciate his nirvana. The Lakers under Mike Brown will be a fascinating case of appointment viewing every night. If you're not watching Derrick Rose every night then you're missing out and this might be one of the last times we get to truly enjoy this Boston team being together. AND THERE IS NO WAY JAMES HERBERT WANTS TO WATCH 66 GAMES OF THE BUCKS AND ENJOY IT. CAPS LOCK.
Beckley Mason
Gem: San Antonio Spurs

It was hard not to include the Lakers, who could be the best team in the West, because I want to see if genetically enhancing his blood (this is not blood doping though, right?) to fix his knee and Mike Brown's coaching touch can work. But I'm going with my ol' steady, the San Antonio Spurs.
Perhaps because they were bludgeoned so thoroughly by Memphis in the playoffs last year, it's difficult to remember they won over 60 games playing a fastbreaking, three-happy style. Many expect San Antonio to finally make amends for the Richard Jefferson signing by shipping him off for a big man that can help return the Spurs D to form. That might make them a little more balanced, but really, I have to include San Antonio because I learn more from watching them than any other team in the league.
Out of timeouts, Professor Pop is simply the best. All-Star Emeritus Tim Duncan still blocks shots with jumping. The team plays with discipline and moxy and Tony Parker and Manu Ginobili are still exhilarating. Watching the Spurs is an education in basketball tactics.
I know it's tough to get riled up about San Antonio, but if you enjoy smart, precise basketball played at a fast pace, San Antonio is the best bang for your buck. Teams like this one don't come around very often. Respect your elders.
8 Games to circle:
Dec 26: MEM

Jan 5: DAL

Jan 17: @ MIA

Feb 4: OKC

Feb 9: LAC

Feb 23: @ DEN

March 4: @ BOS

April 11: LAL
Guilty Pleasure: Golden State Warriors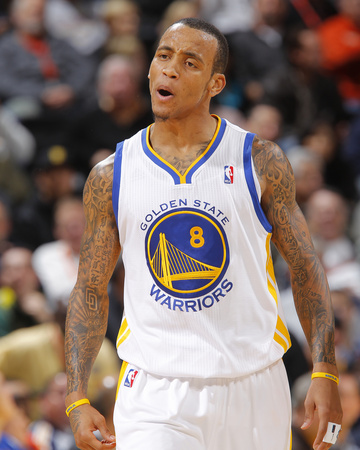 Mama there goes that 33 win team!
Unlike Zach and Ethan, who each chose a team that is objectively thrilling to watch because it boasts one of the most talented, uber-athletic players ever to step foot on an NBA court, I'm picking a bad team I just can't look away. Or more accurately, because I can't bear to watch Steve Nash's Suns. If the rumors are true and Steph Curry really is Chris Paul trade bait, and the Warriors really can fit Chandler in too, this is a legitimate contender that eerily mirrors Chris Paul's dangerous 2006-7 club.
But if they can only nab Chandler, or even if the team returns as is, the Ellis-Curry-Jackson triangle should be fascinating. Adding assistant coach Mike Malone, the architect of New Orleans' impressive defense, suggests they may even slow down enough teams for Curry's brilliance to deliver some victories.
8 Games to circle:
Jan 6: @ LAL

Jan 25: vs. POR

Feb 12: vs. HOU

Feb 22: @ PHO

March 11: @ LAC

March 21: @ NOH (no matter who the point guard is)

April 9: @ DEN

April 20: @ DAL
7 League Pass darlings: MIA, CHI, SAS, LAL, LAC, GSW, OKC
I don't have to explain myself to you. I just wish I had room for the Knicks.
Related posts: