From December 12th to opening night, I'll be releasing a random essay on each team in the league. This post is about the Los Angeles Clippers. You can follow the series with the "2011-12 Team Previews" and "Zach Attacks" tags at the bottom of the page.

When I was eight years old, my parents dragged me to my first live musical. For the record, I hate musicals. I just don't understand them at all.
That's not to say I don't enjoy individual musicals here and there. I thought Chicago was a pretty good movie, Little Shop of Horrors is one of my favorite movies of all time, and just a couple of weeks ago my lady friend and our friends went to see a dinner theater production of Hairspray, which I thought was pretty good.
For the most part, they just grate on my ears like nails to a chalkboard or Kelly Clarkson to a microphone. They seem completely illogical to me. I've never thought of singing out an argument with my friends. I've never decided to join a gang so I can crouch over and snap my fingers as we approach a rival syndicate. I know that the point of musicals is to replace normal dialogue with witty and whimsical songs, but it's usually too much of a stretch for me to get into it. After the third song, I just want to scream at the people to speed this along.
The musical my parents took me to was called How to Succeed in Business Without Really Trying. For those of you who haven't seen it, it's about J. Pierrepont Finch – a young adult who is tired of washing windows for a living and wants to move up the corporate ladder at the World Wide Wicket Company. Throughout the musical, he's being guided by the ominous and helpful voice of a book of the same name as the musical.
Finch's methods for gaining favor with the decision-makers in the company are quite brilliant. He passes up lower promotions onto other employees, lies about his alma mater being the same as the president of the company, sets up other employees in situations that will lead to sexual harassment. He's a real go-getter! Finch is constantly scheming to get ahead in the company, and never wondering about the ethical repercussions.
The second act of the musical is a fantastical display of calamity and ultimately getting away with being horrible in business. Finch has enemies in the company because he hasn't exactly been honest and hardworking in the way he's moved up into the executive wing of the company. He's being offered ideas that will surely fail, and taking them because they're the easy way out. When he passes off an idea that isn't his own once again, it ends up tearing apart offices of the company all around the world.
Just when you think he's going to have to resign from his position and go back to washing windows for a living, he's inexplicably forgiven as he throws another employee under the bus. It results not only in him not having to resign from his executive life, but he also becomes the Chairman of the Board at WWWC.
What did I learn from this musical as an eight-year old?
Life pretty much isn't fair when you're an adult. I remember asking my parents about why he got away with everything after the musical was done and we were headed home. I was confused by how such a seemingly bad and lazy guy could get ahead in life. My dad replied, "sometimes shit happens." My mom clarified that there are people who get away with being disingenuous, but work ethic can get you just as far and have people respect you more.
And I believed her. I watched my dad get replaced in a government job because of a regime change, struggle to find a new job in a horrendous economy, and work his tail off when he found a new opportunity, only to work his way up to the top of his field in less than a decade. He worked 70 and 80-hour weeks to be able to send me to a brilliant private school education for high school. He along with my mom showed me that if you have a relentless work ethic, you could make your way in whatever field you want.
I've believed that and it's worked for me so far in my short career. However, I've also been inundated with daily news stories about people who were devious in the way they handled their career path, made a fortune off of it, and never really had a downfall despite their insidious ways.
One of those people seems to be Donald Sterling.
Sterling is reviled as one of the worst people ever associated with the NBA. He's notoriously and allegedly racist. He's a slumlord. He's driven black and Latino tenants out of his apartment complexes because he only wanted Koreans living there. He's heckled his own players during games, been accused of sexual harassment, and he bought a piece of real estate in 2006 and pledged $50 million on a site to help homeless people in Los Angeles get back on their feet. In the almost six years since making this pledge, nothing has been built on this site.
Oh, and he also refused to pay for an out-of-network procedure for his own coach's prostate cancer treatment.
Sterling has been cutting costs with his team for decades and taking advantage of the insane market size of the greater Los Angeles area to rake in profit on an annual basis. He's owned the organization for 30 years, and in those 30 years, the franchise has had three winning seasons and four playoff appearances. His cloud of villainous karma hangs over the Clippers like Gozer the Gozerian is coming to destroy the world.
Every few years, the Clippers acquire an entourage of young talent, accumulate the positional wealth in future stars destined to break through the sludge of this organization's history, and seem ready for success in the left side of the win-loss column. Sometimes, they taste a brief morsel of success too. They'll have a winning season and make the playoffs before accepting a relatively early exit from the playoffs.
They'll have momentum heading into the next season before someone snaps a ligament, or they ship out a guy who will want to be paid more, or the young players just can't wait to get out of the creepy reach of such a heinous individual signing their checks. The momentum dissipates in a flash and they're back to acquiring talent in the lottery.
They need a chance to break this cycle, bring in the big named star to the team and lock him up with a long-term contract. They have that chance by acquiring Chris Paul. Chris Paul is one of the greatest point guards of our generation, if not the greatest. He manages the team in a way you rarely see. He does tricks with the ball in routine moments just to amuse himself. He leads a team with a passion and fury that will scare you into making the right play.
In order to get this elite player, they have to give up on their cycle of sticking with good young players that have a chance of greatness. They have to trade Eric Gordon and a cornucopia of assets, along with a first round pick of the Minnesota Timberwolves, to break the cycle of doom they've been perpetuating for three decades.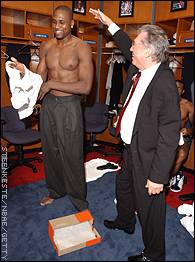 Is it easy to give up on Eric Gordon? Absolutely not. He's prison angry when he drives to the rim, intent on making you his son that play. He has immense range on his jumper and could be a really good defender some day. He's nearly everything you'd want in a young shooting guard. It's hard to give up on talent like that, especially when it goes along with such a nice haul for the Hornets. But like Jessica Biel said in the hit movie Summer Catch, "if you want big rewards, you have to take big risks."
At a certain point, you have to realize that your usual ways of doing business are the problem. You have to break from the norm, take a risk, and work hard to make sure that risk is fruitful in its return. Unfortunately for Clippers fans, that's probably not going to happen. They're going to continue to stockpile and hope everything develops nicely. They're going to end up falling short of long-term expectations and lose their stars to other franchises. Because that's just what this organization does.
It never matters that this is the probable and eventual outcome because Donald Sterling keeps getting away with his horrendous business practices. His overhead is low and his market is rich with television/sponsorship revenue. He couldn't lose money on this franchise if he brought people into the locker room to show them the beautiful bodies of the athletes he pays. Oh, whoops!
He'll continue to sell potential and what could be over something tangible.
Some people want to believe in the beauty and satisfaction of realized potential. They want to sing the praises of those that have fought through the astronomical odds of succeeding in a business that takes so much to get there. I just can't help but feeling like I've seen this musical before.
Related posts: