Over the next 15 days, I'll be releasing a random essay on each team in the league. This post is about the Atlanta Hawks. You can follow the series with the "2011-12 Team Previews" and "Zach Attacks" tags at the bottom of the page.
I have spent a lot of money in my life on a DVD collection that isn't exactly making the American Academy of Motion Pictures Arts and Sciences feel overly covetous.
I've been known to drop $20 on The Wash or Soul Plane, sort of as a sick joke that my friends and I can use as humorous fodder during any given get together. It's not something that I'm necessarily proud of. God knows there are times I glance at the shelves of DVDs and think, "why do I have three copies of Rounders? How did that happen? Did I not know I already had a copy of Hoosiers before I bought the deluxe edition?"
"Dear god, what will they think of me when they see Slammin' Salmon is available to watch in my apartment?!"
To paraphrase the great Patrick Ewing during the 1998 lockout, "I waste a lot of money because I don't have a lot of money," or something like that.
One thing I always have been good at is finding Jean-Claude Van Damme movies in the $5 bargain bin when I've accidentally stumbled into a Walmart or find the "low price" plastic tag on the shelves of a Target. In fact, I'm like the Nicolas Cage character in that treasure finding movie when it comes to grabbing some JCVD DVDs.
Bloodsport? $5 bargain. Hard Target? Found it for $3 once. In Hell? I got it as a buy one, get one free deal when I purchased the special addition Universal Soldier DVD. Yes, I own Nowhere to Run, Time Cop, and Double Impact and no I didn't pay more than a combined $30 after sales tax.
I couldn't tell you why I'm so intent on finding these gems in the DVD section of any given store. It's the first thing I look for when I'm looking at DVDs to buy. If anything my radar for finding such a deal is tuned finer than any NASA instrument used in traveling space. I don't know if it's a gift or a curse. I guess it's a gift because I would have no problem plopping down $20 on my debit card for each JCVD movie I own and calling it a day.
There is something about Van Damme movies that I've always enjoyed. Maybe it's because I can't do the splits and appreciate that level of flexibility. Maybe it's that while they're extremely entertaining and a great way to kill a couple of hours with eyebrow flirting (It's the only way he knows how to flirt), a disarming and sometimes intelligible accent, and flying roundhouse kicks to catapult through random wood doors and bay windows. Or maybe it's just that I've always wanted the supreme balance to hold my foot in someone's face and then turn my body 90 degrees before putting it down.
Whatever the reason is, I appreciate the level of entertainment they provide while not having to fully invest in the franchise. You can find a bargain version of each DVD and think you got a steal.
That's kind of what it's like following the Atlanta Hawks over the past year. They've spent so lavishly on "DVDs" that are so unsatisfying when you realize how much you spent on them, that you start relishing when you find a bargain. Al Horford is a legitimate bargain for the five-year, $60 million extension. Tracy McGrady and whatever he can hopefully bring to the Hawks before his back gives out is probably a steal for the veteran's minimum.
But do those contracts make you honestly feel better about what the Hawks have going for them? Does it make up for Joe Johnson's absurd contract or the money you're paying Josh Smith to sandwich his YouTube highlights betweens multiple slices of horrendous shot selection? We want to like the Hawks because they seem like they'd be really fun. But in reality, it's a mismatched clusterfluff of annoyance and frustration at what we want the potential to be.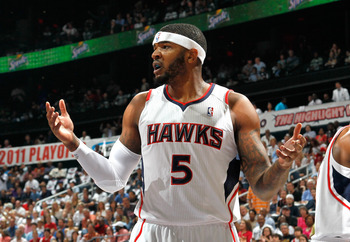 The Hawks aren't really any good. Sure, they're good enough to win 45-50 regular season games, and maybe they'll get a beneficial matchup with a team like Orlando in the first round of the playoffs when the Magic are spiraling out of title contention. They're just good enough to have their potential make you tingle and just bad enough to not be substantial.
The Hawks are set up to bring in a few games of playoff revenue before giving way to a serious contender in the East. They have players we want to be good. They're bringing in guys like Tracy McGrady who we hope can go through a skeletal and muscular renaissance one more time to help this franchise validate our perennial interest in them. However, they can't really be serious about giving us a lasting experience in from of our TVs every time they play because of the decision to max out Joe Johnson in the name of playoff annuity of sorts or the refusal to either coach Josh Smith into greatness or ship him off for working pieces.
Instead, they're going to force us to enjoy the bargain bin, marvel at a few roundhouse kicks to the face, and make sure we never believe they're considered for perennial awards.
Happy hunting, everybody.
Related posts: