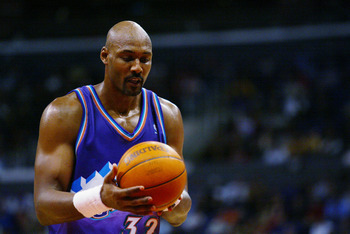 Devin Kharpertian questions the wisdom of screaming at free throw shooters—white noise doesn't distract, all the screams blend together to drown themselves out.
He's right on. What always seems more distracting is when everyone behind the glass backboard hops three feet right as the shooter is releasing the ball to make it look like the hoop itself is moving, or (and this remains a favorite psych-out move in high school gyms everywhere) "shh-ing" really loudly as though quelling an otherwise silent crowd.
His post also got me reminiscing about the good old days, when real men handwrote letters and the Sonics were in Seattle. In 1996, my hometown Supes went up against the Utah Jazz in the Western Conference Finals. Karl Malone was the biggest, burliest cog in the Jazz's offensive machine. He came into the series having helped the Jazz topple San Antonio in 6 games by shooting 70 percent at the line.
Against Seattle, he shot just 55 percent.
Now if you remember, Malone had one of the most drawn out and bizarre free throw routines in the league. He would whisper an incantation of some sort for about 18 seconds while spinning the ball in his hands before finally shooting.
In Game One, Malone went to the line and seemingly organically (I was too young to be a part of any conspiracy) the whole Key Arena started counting. "ONE… TWO…THREE…" By the time we got to "TWELVE!!!" and Malone was still talking to himself, the place was going nuts.
Malone shot 1-6 that game, bounced back in Game 2 to go 12-16, then shot a combined 13-25 in Seattle's last home games (both wins). I'm sure Malone would never admit that he was rattled, but everyone in the arena and the Seattle area would claim otherwise. After Game 1, even though the series went back and forth, we always felt like we (and by extension the players actually competing against him) were in Malone's head, and that when it came down to it, we would have the edge over his team.
That chiding chant would even haunt him in future playoffs series with other opponents.
It was a great time to love the Sonics, and also a quintessential Seattle fan moment: not mean, really, but definitely effective, communal and sort of nerdy.
Sadly, when I poked around on YouTube and couldn't find any evidence of the chant I couldn't find it…. then @SuperSonicsFan found the clip above!
Related posts: