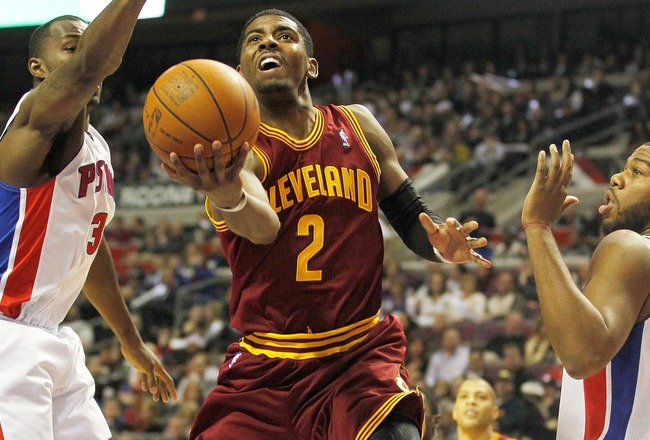 If you haven't already, it's high time you climb aboard the Kyrie Irving bandwagon.
I'm not saying he's going to be the greatest point guard of all time. I'm just saying this.
That's right, the only other player who as a rookie put up these kinds of points and assists with this kind of shooting is Michael Jordan.
Though Irving toils in relative obscurity on the lowly Cavs, don't get fooled into thinking these impressive stats are "empty." It only takes a few minutes of watching Irving before he produces a play that will make you a believer. Even less time if you happen to tune in to a close fourth quarter.
One of the primary critiques of Irving's game coming into the draft was that he seemed to lack the explosive athleticism typified by Derrick Rose and Russell Westbrook. But NBA defenses are finding out that Irving is in fact plenty speedy, and more than that, he already has a solid understanding of how to make himself even quicker by reading the second line of defense. That's how he's become a legitimate go-to scorer at the end of games even though he's only 40 games into his career.
In the fourth quarter, defenses tighten up, driving lanes close and points become tougher to come by–that's why LeBron's game-winning driving layup against the Pistons in the 2006 Finals was so jarring. You don't just drive through four defenders with the game on the line, especially not in the playoffs. But this is exactly what Irving has done time and again in his rookie season.
Last night against the Hawks, with his team needing a bucket and a minute left, Irving twice drove left for layups against a Hawks defense ranked 4th in defensive efficiency, though they've struggled this year defending pick and roll ball handlers. The first time he caught noted defender Jeff Teague napping and instead of setting up the screen, took off from just inside half court, exploded past Teague and flashed to the rim.
On the next Cleveland possession, Irving again positioned himself for a high ball screen on the left side of the court. As he dribbled to his right, towards the screen, veteran defensive specialist Kirk Hinrich lurched to cut him off. Irving countered with a lightning quick spin move then sliced through two more Hawk defenders before laying it in again with his left hand.
His drives don't scorch your synapses like those of Rose and Westbrook, but Irving's attacks have efficiency of a slalom skier—or Tony Parker, another player who mastered the art of changing speeds at a young age.
Because he so often finds a way to wind up near the hoop despite a lack of incendiary athleticism, Irving draws comparisons to Chris Paul. Their actual playing styles aren't entirely similar, in part because Irving's teammates are so bad that were he to play like a pure set-up man, he would basically be hurting the team.
But what joins Paul and Irving is their imaginative handles and control of pace. When you watch Chris Paul, the game may speed up or slow down, but it does so at his command. Similarly Irving has a precocious sense of when to push and when the throttle back.
Irving plays with such a mature smoothness that he almost makes it harder to root for him in the way we typically do for rookies. He doesn't have shocking dunks like Griffin, and the goofy "aw shucks, he's just a kid!" moments are few and far between. He has a veteran's savvy, something that is easy to appreciate but seemingly trickier to get amped about.
Until the end of the game, when, like Paul, that poise and effortlessness becomes a merciless destructive force.
Related posts: