Some adjustments to look for heading into Monday night's games:
Chicago Bulls (1-0) vs. Philadelphia 76ers (0-1)
Obviously Derek Rose's injury is devastating. From this point forward, the Bulls must be nearly flawless if they want to make a run to the Finals. The biggest adjustment is that Tom Thibodeau must have either Kyle Korver or Rip Hamilton on the court at all times. The threat that both those players bring coming off screens is the one surefire way the Bulls can shift a defense and use their excellent ball movement to find the open man for easy looks. With their devastating defense, Chicago may only need to reach the 90-point mark consistently to keep advancing. Korver and Hamilton running opponents ragged through screens is probably their best bet to get there.
Miami Heat (1-0) vs. New York Knicks (0-1)
New York looked nothing like the team that battled Miami tooth and nail during the last regular season matchup. Getting Tyson Chandler over the flu should help immensely. Chandler was in a complete fog during Game 1.
He dropped passes and was consistently a half-second late on rotations he'd normally makes in his sleep. His ability to play 35-40 minutes with the same effectiveness he had in the regular season is a must.
New York's rotations are also a total mess. Mike Bibby shouldn't be on the floor and Jared Jeffries playing on half a leg doesn't do them much good. With Shumpet now out, J.R. Smith should slide into the starting lineup and Baron Davis now has to find a way to provide a relatively productive 25-30 minutes a game. Mike Woodson also needs to hand Jeffries' minutes to Stoudemire with the hope he can provide some offensive a small-ball five.
On top of that, Woodson should seriously consider starting Novak and moving Stoudemire to the bench. Novak can matchup with Haslem as part of the starting lineup and help the Knicks floor spacing to start the game. Stoudemire can then help replace the scoring punch that New York loses with Smith now in the starting lineup.
The final adjustment surrounds the use of Carmelo Anthony. New York needs to get back to the false actions that helped free Melo for 42 points against this Miami team just a couple weeks ago. Having him work with no help to get free and attack a totally engaged LeBron James is a fool's errand. Simple concepts like having Anthony setting or coming off one or two screens into his preferred position would help immensely. It's an easy adjustment because they've done it plenty before Saturday's game. It's also one that the Knicks must make if they want to hang around for more than four games.
Indiana Pacers (0-1) vs. Orlando Magic (1-0)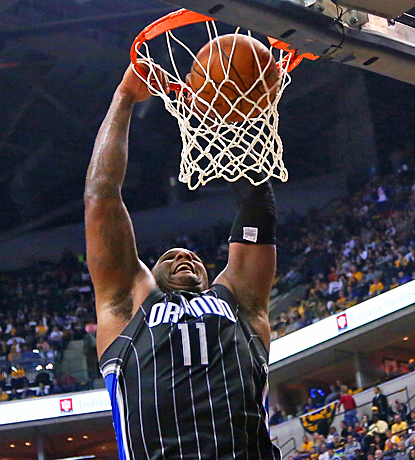 Orlando snuck out a surprise win thanks to some gritty play and some cold shooting down the stretch from Indiana. The Magic still have some room to improve. Glen Davis must stop launching himself into Roy Hibbert off one foot finishes, which the main reason Hibbert had nearly double digit blocked shots (he finished with nine).
Chris Duhon's minutes also need to be folded into JJ Redick's because Redick is just too productive to be limited to 20 minutes a game. Stan Van Gundy's fear is most likely that Redick can't match up with the Pacers' size on the perimeter. Indiana might counter that by having George Hill or Darren Collison pick up fullcourt and pressure Redick. However, having a second ball handler like Hedo Turkoglu on the court should mitigate any potential issues there. Assigning Davis to a few bone-crushing backcourt screens wouldn't hurt either.
I'm not convinced the Magic have what it takes to win the series — Indiana is still the better team — with Game 1 win in their pocket, a few more tweaks could put them in the driver's seat for a shocking opening round upset.
OKC Thunder (1-0) vs. Dallas Mavericks (0-1)
Despite stumbling into the playoffs, Dallas was a heroic shot from Kevin Durant away from sneaking out a huge win against Oklahoma City. Scott Brooks will be the man to keep an eye on this series as his decisions both helped and hurt the Thunder in Game 1.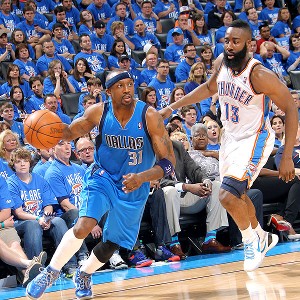 The most positive adjustment was how Brooks handled the white-hot Jason Terry in the fourth quarter. Entering the final period Terry was 8-9 from the field included 4-4 from 3-point territory. In the last stanza he attempted only one shot (a miss), thanks in large part to the Thunder essentially faceguarding him and making the Mavericks play 4-on-4.
It will be interesting to see how this strategy plays out going forward. Terry is such an important and deadly part of the Mavericks fourth quarter offense, continuing this concept might be something Brooks and company pursue for the entire series. If the Thunder choose to do so, Rick Carlisle will have his own decisions to make. Does he play 4-on-4 and hope Delonte West and/or Vince Carter can step up around Dirk Nowitzki and make plays down the stretch?  Or does he throw in new sets or actions that help free Terry to get good looks at the rim?
One final note is that with all the talk of shortening rotations in the playoffs, Oklahoma City is the one team that should seriously revisit the way they dole out minutes. Nick Collison played 11 minutes less than Kendrick Perkins last night despite the fact he has been excellent foil to Dirk during both last year's Western Conference Finals and this year's regular season meetings. Ibaka struggled to contain Dirk down the stretch but he's too valuable to simply remove from the court. The primary frontcourt lineup should be the pairing of Collison and Ibaka with Perkins being a distant third in minutes.
Perkins isn't the only other vet that needs that Brooks needs to chat with about swallowing their pride, either. Derek Fisher doesn't have much left and especially isn't worthwhile to have on the floor if OKC commits to putting James harden on Terry for stretches anyway. The Thunder's guard/wing rotation should be a tight four man rotation with Russell Westbrook, Kevin Durant, Thabo Sefolosha and Harden. Daequan Cook could soak up spot minutes when there's a place to hide him on D, but with Sefolosha's improved shooting this year that's not nearly as much of a necessity as in the past.
Related posts: