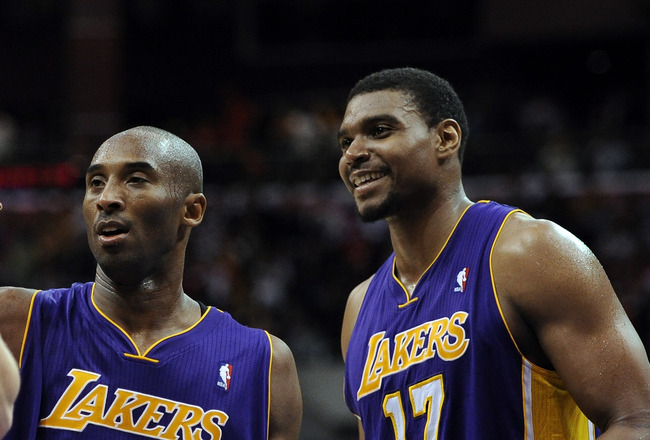 Andrew Bynum is the most dominant offensive big man in basketball. He scores, almost literally, at will against the Nuggets. In this matchup and most others, the Lakers, including Kobe Bryant, should be force-feeding him the ball.
That's, more or less, what Henry Abbott wrote in a long, well-researched post over at TrueHoop (read it for all the gory details regarding the following few sentences). Abbott notes that as the game wears on, the Lakers use Bynum less and less and Bryant more and more. Not surprisingly, this has the effect of dragging Bryant's shooting down in terms of efficiency, while Bynum scores at an ultra high rate because he's basically only scoring on lobs, putbacks and the occasional super-deep seal.
The disparity gets worse as the game goes on. No player hogs the ball like Bryant does in crunch time, and that's precisely the time in the game when it's toughest for the Lakers center to get a touch. In the first half, Bynum's usage rate is 24, in the second half it falls 19.3 — that's Nikola Pekovic territory. In overtime it falls further, to a Kris Humphries-like 17.

In his prime, Shaquille O'Neal's usage rate was consistently over 30. Even though he now shoots far less, Tim Duncan still sports a career average usage rate of 27.7.

In the second half, Bynum shoots less than once for every three minutes he plays. Bryant shoots twice as often. NBA.com's advanced stats tool tells us that in the last minute of games within five points, Bryant's usage rate this season was 65.3, compared to Bynum's 19.4. In other words, for every late possession that Bynum uses, Bryant uses three and then some.
The most ready counter argument to Abbott's position (that Bynum should get as much of the ball as possible whenever he gets position) is that it's just tougher to get the ball to Bynum at the end of games, and that when he does catch, he's not the most adept at handling the double team sure to come his way.
This much is true: Bynum definitely has a ways to go before he reaches Pau/Dwight/Duncan levels of post passing proficiency. And Kobe Bryant can always get open, because his "attack range" is basically the entire court.
Still, Bynum has improved markedly since the start of the season in regard to his passing. He is more comfortable turning away form the double team to shoot his turnaround jump shot. He is even less skittish when evaluating whether a hard double is coming his way, or the second defender is just stunting at him, and he seems to have a much better understanding of where his outlets are.
But the important point to make is this: Andrew Bynum demands a double team or else he will score!
What an incredible weapon!
Here's how it can work, over and over: Lakers pass it to this guy whom their opponent can't front because of Bynum's size and Pau's passing, and then they have to commit an extra defender to stopping Bynum (or he scores), leaving them three-on-four against the other Lakers. Those other Lakers include Kobe Bryant, Pau Gasol and Ramon Sessions. YIPES!
See what I'm getting at? Even if all that happens is the ball goes in to Bynum and he passes out of a double team to the weakside, what the Lakers are left with is Kobe and Pau, or just Kobe, or just Pau, attacking against effectively no help defense.
To me, that's the irony of this whole situation. Kobe Bryant actually hurts his own ability to close games by insisting on dominating possessions for the entirety of the shot clock, a habit that makes him relatively easy to defend at the end of games. If he were to give it up to Bynum or Pau, cut through, perhaps receive a screen, and then get the ball on the weakside, there's no doubt his — and his team's – chances of beating the defense would dramatically increase.
Related posts: