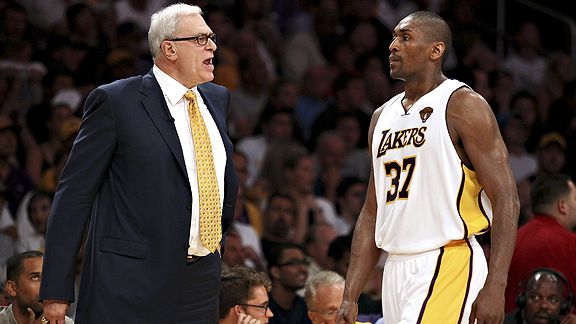 I miss Phil Jackson's mind games.
Growing up in Sacramento, I was front and center with the Kings-Lakers rivalry in the early 2000s. Most of my friends were Kings fans and it caused me to really dislike the team (probably because I'm a terrible friend or something). I wanted them to lose and I wanted them to lose badly for childish bragging rights that had nothing to do with my team. When the Lakers were bullying them around and then fighting for their lives to outlast a team that was possibly better than them, I was rooting for Shaq and Kobe to move on to the NBA Finals.
Because of this cheering by proxy mentality, I loved every second of the mind games Phil Jackson tried to play with the city of Sacramento and the Kings through the media. He'd throw out a verbal barb of some kind, Arco Arena would make his eardrums pay for it the next game, and the level of excitement and entertainment was beyond palpable. It was a cycle of pure enjoyment.
World Peace has not spoken to Harden since elbowing him in the second quarter of the Lakers 114-106 double-overtime victory April 22.

He didn't expect to greet him before the game.

"He doesn't start. I only fist-bump the starting five," World Peace said. "I don't fist-bump subs."
When Ron Artest (I'm not calling him that) recently said he wouldn't fist-bump James Harden because he only does that to starters, it seemed like everybody briefly lost their excrement. 
How could he be so rude and unsportsmanlike after his crushing elbow gave Harden a concussion? Is Ron Artest a menace to NBA society? Will he cause another outburst that ends in punches being thrown? Has he learned anything from this whole ordeal?
Personally, I loved these comments. Maybe it's just a technicality thing like some people have wondered in revision or maybe Ron is dismissing James Harden because he's not a starter in this league. I don't know the reason why he said this and I don't really care to know. If he's trying to get under the skin of James Harden and force him to prove his worth and value on an NBA court, I think it's a brilliant mind game.
Even though we love thinking the NBA comes down to Kobe Bryant or LeBron James or Kevin Durant or Dwight Howard or Derrick Rose taking on an entire team by himself, it rarely works out that way in a successful manner. The NBA is a team game and it's been proven time and time again.
The Mavericks don't win the title last year without their ball movement, team defense, and multiple guys stepping up (and Brian Cardinal, of course). The Lakers don't win titles with Kobe getting help from Pau Gasol or Kobe and Shaq teaming together. The Spurs don't win titles unless Tony Parker and Manu Ginobili are capable of flanking Tim Duncan. And Michael Jordan needed the help of Scottie Pippen to secure their six rings together.
Forcing a guy to take on the five in front of him without involving the four beside him seems like the best way to break down an opponent in today's game. We've seen the concerns that come up in the public perception when it appears Russell Westbrook is trying to do too much on his own and not including Kevin Durant in the action.
So what if Ron's comments about not shaking the hands of the league's best non-starter cause that player to try to take over against the Lakers to prove the slight to be unwarranted? What if Artest just got James Harden to go one-on-one more than running that unstoppable pick-and-roll and pick-and-pop to perfection? What if he's isolated a team player inside his own bravado?
People (including myself) like to claim that starting doesn't matter in the NBA because it's the players who finish the games that really matter. And in the grand scheme of things, I believe that to be true. However, starting matters to players. Being a starter on a good team is something that brings respect from their peers. When Michael Beasley became the sixth man for the Wolves during this season, he said he was fine with it as long as they were winning games.
At the beginning of this season, the Thunder were in Minneapolis to be the first opponent of the Timberwolves. During the pregame locker room sessions, people were asking certain Thunder players what their expectations and thoughts on Ricky Rubio were before he made his debut. One player in particular grew rather annoyed with the questions about a rookie who wasn't even starting on the worst team of the previous season. As reporters left the OKC locker room, he could be heard wondering why everybody was so enamored with Rubio because "he doesn't even start."
Just because we find it to be ridiculous doesn't mean Ron Artest has to show respect to James Harden on or off the court. If Ron wants to think less of Harden and his ability because he's behind Thabo Sefolosha on the starting depth chart, that's up to Ron. If he doesn't want to show respect to Harden because he thinks it's going to get him out of his devastating role with the Thunder, then it's a mind game worth trying.
Yes, the Artest Formerly Known as Ron hit Harden with an elbow that caused the very fabrics of society to crumble as we questioned everything we know about sportsmanship, celebrations and good ole fashion head injuries. People want Ron to be remorseful for these actions and quotes like this don't really seem to quench that desire for penance.
I think it's time to get over this incident. This fight is between the Lakers and the Thunder, Artest and Harden. Let's enjoy the potential mind games through the media and see if it affects the play on the court.
Phil Jackson would be proud.
Related posts: