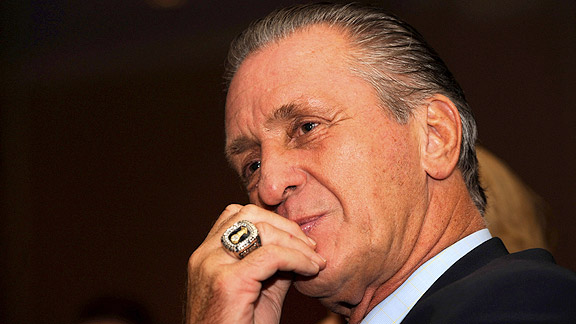 Daryl Morey trades Chase Budinger in a typically Morey move. Budinger was taken with the 44th pick; today he's dealt for an 18th pick. With trades like this, Houston's GM can appear like Bigfoot, the inventively frugal restaurant manager from Anthony Bourdain's Kitchen Confidential. On the margins, Morey is a master.
So, I come not to question Daryl Morey's wisdom, assiduousness, or even his decision-making. I come to question his effectiveness. He took over in May of 2007 and the Rockets have won one playoff series since. You can't point to one monumental Morey choice that threw the team off course (perhaps Stern's veto is an exterior one), but here Houston is, floating along lukewarm NBA waters like an aimless, harmless manatee.
I present a paradox. If a general manager has made largely good decisions, then how can you possibly criticize him?  Morey has wrung quite a lot from seemingly mediocre rosters. That superstarless 22-win streak is the most notable example. There have been a few miststeps along the way, but that's not even my focus here.
I point to David Aldridge's recent report that Dwight Howard would not sign with Houston long term, were the Rockets to trade for him. Morey is still probably in hot pursuit of the capricious center, despite the cold shoulder. Dwight might change his mind, but Chris Bosh won't. Too late for that, obviously, as the 2010 object of Morey's affections is on contract in South Beach, title in tow.
Morey pitched Chris Bosh on returning to Texas roots, but lost out to Pat Riley's ambitious plan. Riley may not be an analytics maven, but he flaunts charisma and NBA cachet. This is the element of general managing we usually elide when fantasizing about being a GM: You must be something of a car salesman. In a league where a few superstars have such a large impact, recruiting can trump all else. In an era where superstars are increasingly antsy about staying at Forced Rookie Contractville, recruiting  matters more than ever.
The focus is on how Morey's decisions are a referendum on his statistical acumen and statistics in general, but we could be missing why those decisions largely happen in a vacuum. A smart GM is fantastic, but he'll only help you discern between options–he won't extend the scope of your options to superstar hires. Daryl Morey is in a large, warm-weather market, but has yet to leverage it to his advantage.
Not every executive needs to be Pat Riley. The subdued Sam Presti built through the draft, after all. Perhaps that's the lesson: If your GM isn't like Calipari on the recruiting trail, then be bad enough to draft Calipari's players.
Related posts: