Welcome to Part Two of our preview of the LeBron James vs. Kevin Durant, without a doubt the best true matchup in the Finals since … well … since at least before Durant was born. (Seriously, look at this list, consider who guarded whom and try to come up with a better one.)
As we discussed in Part One, both coaches would no doubt prefer to let their designated stoppers handle the two toughest covers in the NBA. The problem is, James and Durant are better at guarding each other than any of their teammates are. They will spend plenty of time each game, likely around 25 minutes, checking each other.
Here's what to look for when these two phenoms are checking one another:
James guarding Durant
Ignore, for a moment, all the times LeBron James flies in from out of nowhere to spike a ball off the backboard and what you're left with is a cerebral and conservative defender. He plays to the scouting report, trusts the help and never bites on fakes. His conservative outlook, paired with his unique athletic profile is a devastating combination. He is almost always in great position and from there is happy to concede a jumper with a strong contest.
In fact, sometimes it appears that James is coasting while he defends the ball, if only in comparison to his absurd activity away from it. Watch how he defends on a switch. He adopts an aggressive posture and intimidates his new man from even thinking about attacking. Then, having neutered the opposition, he settles into solid but basically unremarkable position-based defense.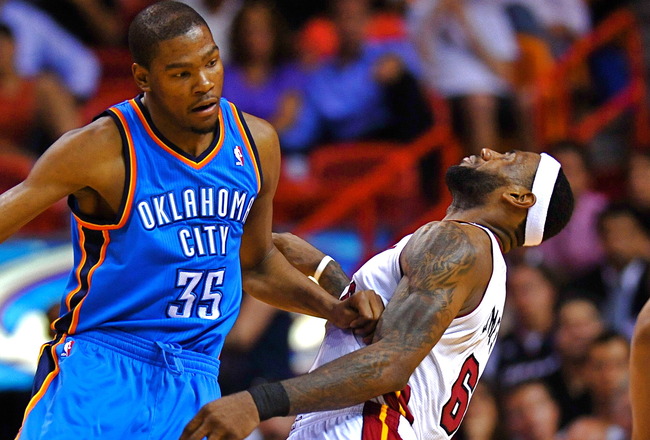 That worked pretty well against Carmelo Anthony, who looked tentative driving against James, but won't be nearly as effective against Durant. This year Durant appeared relatively comfortable attacking James off the dribble and he can almost always work his way to a decent midrange shot because James makes defending against the drive such a major priority in isolations. When he does crowd Durant, James often appears wary of picking up a cheap foul. However when Bosh is protecting the rim, it might be a good idea for LeBron to focus on speeding up Durant, who turned the ball over frequently in their regular season matchups.
When Durant runs off of screens, particularly from Kendrick Perkins (AKA the mean screen machine) James typically defended by trailing, and was caught behind the play more than a couple times during their regular season matchups. Durant releases the ball so quickly and from so high that with Durant, the space James can afford to give every other scorer becomes a chasm across which he cannot recover. As an added bonus for the Thunder, not only is this the most reliable way for Durant to find a clean look when shadowed by James, these bruising screens come with the added benefit of wearing down the MVP — and not just in one game, but over the course of a long series.
To counter, James will need to do his work early, using his strength to push Durant away from screens the way Tony Allen did for Memphis last season. Reason suggests James, given his strength, would be every bit as effective as Allen if not more with this kind of bully defense. But he'll have to be careful, Durant has gotten better at selling fouls off the ball and James is skittish of any scenario that might send him to the bench early with foul trouble.
That being said, James will also know precisely from where his help is coming and defend accordingly. With a long series to build and refine a gameplan, James and the Heat should as well-prepared as any team could be for the challenge of guarding Durant.
Strangely, this will probably mean James starts a few key possessions guarding someone else, likely Westbrook, so that he can switch on to Durant at the end of the possession. In fact, the Heat's no point guard lineup provides a great counter to the Thunder's "unstoppable play," which is really just a down screen for Durant from Westbrook. The Heat — if Battier starts on Durant (likely) and James is assigned to swallowing up Westbrook (also likely) — can just switch this pick and let James muscle up on Durant to push him out to the perimeter. Of any team in the NBA, the Heat are probably the team best equipped to reigning in the Thunder's pet play.
Durant guarding James
Durant had the second biggest wingspan in his draft class and his insane length will no doubt be the key to slowing down James during this series. Durant's performance will largely be dictated by his ability to find the proper balance between contesting jumpers and cushioning drives on each and every possession. His overarching goal must be to bait James into settling for low percentage shots he can get relatively easily, rather than high percentage looks closer to the paint that take a bit more work to get.
In the post, Durant must expand a ton of energy before James even catches the ball. Like Sefolosha, Durant will have to put in his work early in to try and force James to catch further out than he'd prefer, so that James has to dribble his way into attack position. Before James uses that dribble, Durant must use at least one arm to obscure obvious passing lanes, as James loves to leverage his post prowess to collapse the defense and free up cutters and shooters.
When the ball arrives, Durant should take a page from the Chuck Hayes school of post play by being a major pest whenever James puts the ball on the floor. After first providing a balanced based with his lower half, Durant must support James with one forearm while diligently using his free hand to try flick and poke at the ball in an attempt to cause even a slight deflection to make James give ground or alter his attack.
In screens on and off the ball, Durant has to try his best to shrink his lanky frame and avoid contacting the screener as much as possible. This will be no small feat, but Durant will be aided by the fact that Miami doesn't call for too many screens off the ball for James.
Durant's biggest task will be defending ball screens, with James as both the handler and the screener. The latter will actually much more difficult than the former. James is not only devastating rolling to the rim, but when popping into space looking to isolate, Durant will be forced into the tenuous position of trying to stay attached James as a screener while still slowing the ball handler (likely Wade). This is a very nuanced concept, one Durant hasn't seen a ton of in his brief career and is unlikely to master over the course of this series.
When James has the ball in a pick-and-roll, Durant needs to rely on the help of his bigs to corral James as Durant fights through the screen. His biggest test on this action will be getting back into a good stance once he navigates the screen. James will surely take advantage of any error in positioning should Durant's footwork get a bit sloppy.
That segues into perhaps the biggest concept of all, Durant's trust in the help. With an elite shot blocker (Ibaka) behind him, Durant must resist the urge to do everything himself and funnel James' drives to the long arms of Ibaka or the charge-taking chest of Nick Collison. If a few his drives end in offensive fouls or blocks, James may have second thoughts on attacking the rim throughout an individual game or the series, which is all Durant and the Thunder could hope for.
Advantage: James
We didn't talk much about transition play, but that's in part because both players are pretty much unstoppable on the break. All in all, this is an incredibly even matchup. Though James' team is a more cohesive defensive unit, the presence of both Nick Collison (charges) and Serge Ibaka (blocks) on the back line is a true game-changer.
Who wins this matchup may come down to who has fresher legs throughout the series. Scott Brooks should commit to using plenty of stagger screens along the baseline to force James to run through as many tough picks as possible. Meanwhile, the variety of ways the Heat use James — as a screener on and off the ball, coming off screens for post ups and jumpers and, of course, dribbling into plenty of pick-and-rolls — will test Durant's mental and physical stamina.
One key difference is that James has far more experience as a shutdown defender in the playoffs, and one would expect that he'll be better equipped to manage his energy and fouls than Durant — especially if James can get consistent touches in the post. We've just never seen Durant take on this kind of defensive burden for extended minutes, though he looked great against Kobe Bryant in spot duty.
The caveat is that James must put pressure on Durant at all times when they are matched up, he can't let him off the hook by standing around or settling for jumpshots. But if both players attack like they have throughout the playoffs, the advantage goes to the player with a greater store of experience and physical strength: LeBron James.
Read Part One to see how these two will be defended when they aren't guarding each other.
Related posts: