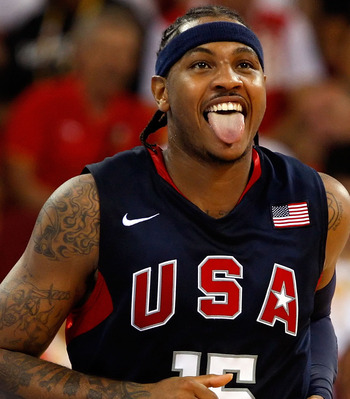 Kevin Durant is the second best player in the world and yet he backed up Carmelo Anthony in Team USA's exhibition game against the Dominican Republic. If this continues, observers will continue to rationalize. My guess is they'll wash down the odd decision with, "Well, Melo's a great international player."
In complete fairness to Carmelo Anthony, he was a revelation at power forward late in the 2011-2012 NBA season. He's devastatingly strong on the block and a move to the four could redefine his game as inexorably efficient. I wouldn't be shocked if Anthony made a spirited 2012 Olympic run in Coach K's smallball lineups. Not in the slightest.
Okay, caveats gone, now for how I really feel.
Why is there a persistent myth that Carmelo Anthony is some kind of FIBA savant? I've encountered the trope countless times since the 2008 Olympics, which strikes me as strange, because I happened to watch every U.S. game of the 2008 Olympics.
Carmelo Anthony, as I've repeated quite a few times on the blue bird, was awful in those games. While his 42% shooting and .4 assists might not seem like a basketball travesty, you have to keep in mind that his teammates were killing it against inferior competition.
Dwyane Wade shot 67% on more attempts than Anthony lobbed, while delivering five times as many assists. LeBron James shot 60% with twice as many assists as Wade had. Both LeBron and D-Wade shot better from three point land than Anthony. Team USA's big men were even more brutally miss-averse. Both Dwight Howard and Chris Bosh claimed over 74% from the field in limited opportunities.
So if you were watching–and I've become increasingly convinced that few actually watched–Anthony's mediocrity was all the more glaring. But the FIBA Melo myth drums on, and its origins are a mystery to me. Anthony did not play much in the 2004 games. He had a nice run in the 2006 World Championships, notching 50% on field goals and leading the team in attempts.
On the diluted international level, these numbers weren't mind-blowing, but it's possible that Anthony chucked enough to appear a cut above teammates who scored in tidier ways. The eye test tends to conflate shooting frequency with shooting effectively. It's as though our subconscious whispers, "He must be great. Why else would he be trusted to shoot so often?" The eye-test often only sees the status quo.
I doubt America paid much attention to the 2006 World Championships, but legends have sprouted from less. Though, if I had to peg the genesis of "Melo's great at FIBA!" it would be the theory of "Melo's great at FIBA!" (Credit to Nick Flynt on offering said theory).
See, it's well-known that Anthony takes a lot of long-to-midrange jumpers. From that knowledge of his skillset, logical people probably anticipated that Melo would receive three points where he often got two, lofting his star to new heights. Once that kind of leap is made by announcers and writers alike, they rarely, if ever, examine the hypothesis.
The hypothesis isn't necessarily wrong, though. Anthony did indeed shoot better from three-point range in FIBA, to the tune of 41%. The fallacy was thinking that this would vault him into some uncharted strata of superstardom. The FIBA line is 19 inches closer, not 19 feet closer. That 19 inch encroachment isn't moving a whole lot of Melo's 5.6 long-twos per game over the three point border, and he hits only 35% of such shots.
Also, the other superstars benefit from a closer trey. A sinking three point line lifts all boats, to twist an aphorism. LeBron was better from FIBA deep, as was Kevin Durant in 2010. There's no rule that grants Melo a monopoly on such an advantage.
In the aggregate, compared to his starting Olympic peers, Carmelo Anthony has been mediocre. He also has a tendency to take a lot of contested shots, a permissible habit when surrounded by terrible players. But Carmelo Anthony isn't surrounded by terrible players. He's taking those shots from guys who are better at making them. And he happens to be of a stacked Team USA position.
If you believe that the U.S. will easily win gold anyway, Melo may be a non concern to you. To me, it's less an issue of what's best for Team USA, and more an issue of our collective memory failure. It's as though basketball fans lose their faculties when games are played abroad. The tournament structure is a bit confusing, the rules are somewhat different, the games happen at odd hours. The unfamiliarity fosters a hazy atmosphere from which fans and pundits take only what they believed prior to the tourney. The American basketball fan essentially experiences FIBA games like a drunk experiences a blackout.
I find this frustrating because, for these games to matter, people need to recalibrate how they feel in response to them. America's 2008 gold medal means less if the public forgets Dwyane Wade's masterful performance throughout.
Kobe Bryant had a fine 7-of-14, six assist showing in the gold medal game against Spain. It morphed into a collective memory of Bryant dominating the 2008 Olympics, as though nothing else happened. This likely had less to do with what Kobe did than how Blackout USA felt about Kobe going into the tournament. 2008 was around the apogee of Bryant's star, and the idea that he was America's best player.
Why do I believe that people were responding more to their beliefs and less to the results? Well, does anybody talk about Dwyane Wade's 9-of-12, 27 point gold medal game? The one that served as an exclamation point to a Bolt-esque incredible Olympic run? It's as though D-Wade never showed up to the tournament he owned.
So let us pay attention this time. It's a lot to ask these guys to play for free if we're not even paying attention.
Related posts: