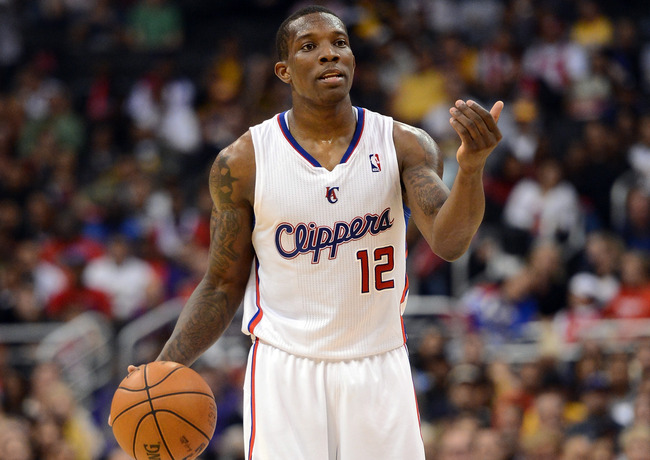 Here's something you might not know: Eric Bledsoe is killing in pick-and-rolls this year. It's actually a big part of his game. On a per minute basis, Bledsoe uses almost as many pick-and-roll possessions as James Harden and he scores better than the likes of Tony Parker, Mike Conley and Rajon Rondo (per Synergy). Being the NBA's weirdest player doesn't stop Bledsoe from excelling at some of the more typical tasks. His game is full of happy surprises.
But it's true, there's something about Eric Bledsoe that just doesn't look right.
As an athlete, Bledsoe's combination of lateral quickness, power, speed and improvisational grace sets him well apart even in the NBA. But his body seems oddly misshapen. It's his arms, mostly. They don't belong; as though Bledsoe stole them from a much taller man, or some parts were mixed up in the factory.
In fact Bledsoe's wingspan exceeds his height by more than seven inches. That's the same discrepancy as ol' cartoon arms himself, Kevin Durant … except Durant is almost a foot taller.
This is worth mentioning because we tend judge the skill of a basketball player by the things he does with his hands — the fine motor skills of the NBA are controlled dribbling, accurate shooting, the deft pass. That Bledsoe's hands are affixed to arms that appear generally unwieldy gives even his most delicate moves a sense of awkwardness. They contribute to the unfairly enduring perception that Bledsoe is more track athlete than basketball player, that he can't, say, run the pick-and-roll.
Of course Bledsoe is physically imposing, and at just 6-0, he somehow manages to be a defensive wunderkind. As a general rule, it's more difficult for point guards to have as constant and profound an impact on a team's defense than a power forward or center. More or less, that's because point guards are constantly dealing with ball screens, which means they need lots of help, while big men have a singular ability to impact those valuable shots near the basket.
Well, Bledsoe is different. There is a real gulf between the defense he plays and the defense that pretty much every other guard in the NBA plays.
His new nickname might be Mini-LeBron, but Bledsoe is more comparable to Dwyane Wade, the NBA's longtime "Best Shot-blocking Guard," a title that now belongs to Bledsoe. Like a younger Wade, Bledsoe dramatically tilts the odds in his favor on any 50-50 ball, and he has a knack for anticipating passes and making defensive plays that the offense just never sees coming. 6-0 guards shouldn't win tip-ins over Tim Duncan or stop 2-on-1 fast breaks with a block, but Bledsoe makes those kinds of plays several times every game.
Against Chicago on Saturday, to pick a ready example, he broke up three different handoff plays in the span of a few minutes. When Nate Robinson ran off the screen, Bledsoe would not only prevent him from receiving the ball, but twice just snatched the ball from the player making the handoff (the third time he deflected the ball out of bounds). On Monday against San Antonio, he somehow read and picked off a pass that Manu Ginobili had thrown between a defender's legs.
These are the moments that separate Bledsoe from most NBA players, who wouldn't even try to do what he seems to accomplish rather effortlessly. He's just different.
Or, take his series-deciding performance against the Mike Conley and the Memphis Grizzlies in last year's playoffs. Conley might not rank as an elite point guard, but he is crafty, lightning quick and often the engine of the Memphis offense. Bledsoe ate his lunch. It wasn't that he slowed him down. Conley collapsed, and so did the Memphis offense, when Bledsoe came in the game.
If point guard defense matters a bit less because it's basically an impossible task, consider the value of Bledsoe, one of only a couple players who can be reliably deployed to accomplish that very task. No one else eats space quite like Bledsoe because no one else with his length has his quickness and strength, so unlike many tall, long players, Bledsoe doesn't have to give much cushion.
That means he can just do stuff no other player can do. Are you picking up on the theme?
There are just more possibilities when he is on the court, which is both an aesthetic and pragmatic argument for his impending stardom.
As fun and educational as watching Chris Paul is, and there certainly are moments of unscripted brilliance, last year's Clippers were boring. There was the sense that, having watched a handful of games, you had already witnessed the full catalogue of possible outcomes for any Clipper possession. (Worth noting: Bledsoe was coming off an injury and playing just 11 minutes per game.)
This year's Clippers are more dynamic for a whole host of reasons that probably begins with Jamal Crawford's handle, which looks like a real life version of when someone is mindlessly mashing the crossover button in NBA 2K — no one goes behind the back six times then spins, goes between the legs and shoots and makes a 3 … well, almost no one.
But Bledsoe's been the true revelation for me. At least he has the highest per 36 minute rate of plays that make you do this:
Admittedly, my personal enthrallment with Bledsoe's game has something to do with the novelty factor.
Just watching him fall can be an entertaining experience. Against the Grizzlies he was undercut while soaring for a rebound and nosedived face-first from the peak of his leap. He landed softly, unhurt, by essentially catching himself with his hands.
Of course there are plays that are equally eye-popping and also useful to his team. Bledsoe has become a surprisingly deft finisher on the kind of finicky 10-feet-and-in touch shots that are a must-have weapon for a player his size.
His ball handling, generally, is also underrated, probably because he's been so turnover prone early in his career. If an offensive possession is like a vehicle in motion, a typical turnover might be like a car breaking down by the side of the road. Bledsoe turnovers have a worrying tendency to leave burnt rubber for a hundred yards and a smoldering pile of metal wrapped around a sign that reads "Slow Down."
But Bledsoe's turnover rate has declined markedly this year even as his usage and assist rates hit all-time highs. As a result we are seeing more and more moments when Bledsoe finds the cutter with the snappy bounce pass, or, having already pierced the heart of the defense, invents a clever passing angle to a big man under the rim.
Put simply: he's playing more and better.
His per/36 averages (20 points, 5 rebounds, 5.5 assists, 3 steals on 50.7 percent shooting) are All Star-caliber; there is no metric other than 3-point shooting by which his play has not been exceptional. That jumpshot probably is, as much as anything, what limits his minutes to around 20 per game, though there's a persuasive counterargument that his ability to attack a closeout and generally create for others far outweighs his inaccuracy as a spot up shooter.
And he posts all these fantastic numbers despite hardly ever playing with the Clippers best players.
Like Harden in Oklahoma City, it's possible that Bledsoe suffers from the perceptions that accompany any bench player. If he is so good, then why wouldn't he start, and play more?
The fact is we don't really know much about Eric Bledsoe, which is part of the thrill of watching him play, and the pain of enduring the utterly mediocre Willie Green, who starts and has played slightly more than Bledsoe this season.
Bledsoe's game is weird and violent, blunt yet surprising. At times there's a desire to blame coach Vinny Del Negro for stowing him out of sight, but Bledsoe may never be a coach's player because a certain amount of what makes him great can't be premeditated. Gregg Popovich has spent about a decade working with Tony Parker to turn his game into one of precision — Parker is a fine-crafted tool to accomplish a specific job. Bledsoe's game isn't an implement so much as a state of being. While he's worked hard to bring necessary control and sanity to his game, to an extent he is just going to react dynamically with his environment and his coach just has to trust that it's going to work out for the best.
The unknown is part of the allure with Bledsoe, but we do know this: he makes his teammates better. Winning all those broken plays, the deflections and steals, the open court pace, those daring drives to the rim — they all make life easier for his Clipper teammates.
It's hard to know whether he'll ever be much more than a supersub with the Clippers as the backcourt rotation is set to become even more crowded with the return of presumptive starter Chauncey Billups. Del Negro finally gave Bledsoe some crunchtime burn against the Spurs and he responded with four rebounds in the final four minutes, a made bucket, a freethrow and one totally blown assignment that gave Tony Parker a wide-open 3.
The Bledsoe experience can be a wild ride. So 20 minutes a night of Bledsoe may be all we're allowed this year. But that's still enough to see how special Bledsoe is, and to know that sometime soon, when he gets the minutes, he'll be a star. It's just a matter of time.
Related posts: