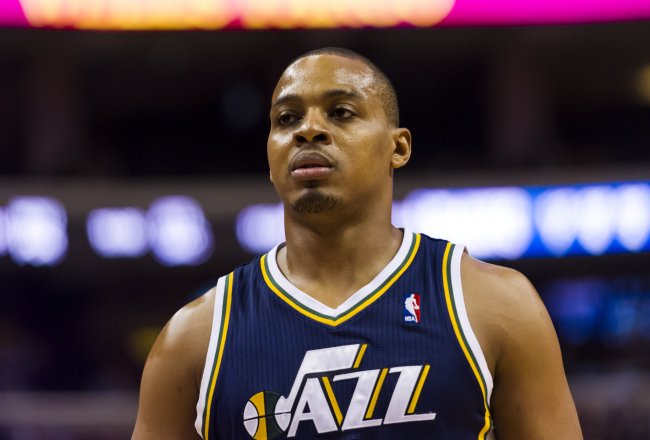 This is an intervention.
The Utah Jazz clearly have no idea what lineups they should be using, so I'm here to help. I'm going to start with Randy Foye, because he seems to be single-handedly murdering the Jazz.
Foye has been so bad that I quadruple-checked all the data because it was so jarring. Individually, he doesn't seem like much of a train wreck – he has a PER of 11.1 and a true shooting percentage of 53.0%. Obviously that's not good, but it's not so bad that it jumps off the page. This season, it puts him in a similar class as Mario Chalmers and Toney Douglas, who have each been passable.
Here's where Foye has been different – when he's on the court, Utah scores 104.4 points per 100 possessions and allows 110.1 points per 100 possessions, for a -5.7 net. When he's off the floor, those numbers flip – Utah scores 111.8 points/100 and allow 102.5 points/100, for a +9.3 net. Combine the two and Foye is costing Utah FIFTEEN POINTS per 100 possessions just by stepping on the court. That's the difference between being the Heat and being the Bobcats.
Now, there's an obvious counter-argument to this – looking solely at the +/- of one player is rather disingenuous when so much of that statistic is dictated by (a) the other four players on the court, and (b) how productive the team's bench is when the player isn't on the court. With Foye, however, that counter-argument doesn't hold up when you start digging into the numbers.
If you look at Utah's most-used lineups and the on/off numbers for two-player combos, it becomes obvious that Foye is the problem. Check out how Utah performs based on Foye sharing the court with either Al Jefferson or Paul Millsap (numbers listed below are Utah's net points per 36 minutes in each scenario):
Jefferson overall: -1.8

With Jefferson and Foye: -6.9

With Foye but not Jefferson: +0.7

With Jefferson but not Foye: +5.8

—

Millsap overall: -1.6

With Millsap and Foye: -4.9

With Foye but not Millsap: -4.8

With Millsap but not Foye: +3.8
These drastic swings also pop up when you look at full five-man lineups. There are too many instances to count, so I'll just list my favorite one – the three-man group of Millsap, Favors, and Jefferson that worked so well last season? When those three play with Mo Williams and Foye, the group is outscored by 21.2 points per 100 possessions. Sit Foye and play Hayward instead? +29.0 per 100 possessions. Yes, you read that correctly. A 50-point swing with one substitution.
Again, there's a decent counter-argument here – the lineup with Hayward has only played 17 minutes together this season. We could just be dealing with goofy trends that crop up because of a small sample size. But the point isn't that Gordon Hayward offers Utah some magic elixir that inexplicably and intangibly allows them to play better, it's that anybody is an upgrade over Foye for this Utah team. The same trends happen again and again with multiple lineups – it doesn't matter if Foye is being replaced by Hayward, DeMarre Carroll, Jamaal Tinsley, or some vagrant that wandered in off the street.
No rebounds, no rings … or at least fewer wins
The real culprit – if you wanted to point to just one – is how much Foye affects Utah's rebounding. Foye averages 2.2 rebounds per 36 minutes, which ranks him 294th of 296 players with at least 250 minutes played so far this season. His 3.4% TRB% also ranks him 294th of 296 eligible players. He's not quite Eric Maynor (who ranks dead last in both categories), but you can say with near certainty that Foye is one of the three worst rebounders in the entire league, and it shows in Utah's team numbers.
Utah is a rather unique team in that their offense is largely kept afloat by how well they get second shots through offensive rebounds (31.0 ORB%, 4th-best in the league), and their defense largely struggles because opponents get second shots through offensive rebounds (71.2 DRB%, 4th-worst in the league). These are their numbers on aggregate for the full season. Now take a look at their numbers with and without Foye:
With Foye:

25.8 ORB% (equivalent to 22nd in the league)

69.0 DRB% (equivalent to 30th in the league)

Without Foye:

37.2 ORB% (equivalent to 1st in the league)

73.6 DRB% (equivalent to 12th in the league)
And saying "equivalent to 1st in the league" for their offensive rebounding without Foye isn't even doing it justice. Memphis is currently best in the league, rebounding 32.1 percent of their own misses. If Utah were at 37.2 percent for the season, Memphis at 2nd would be closer to league average (27.0 percent) than they were to 1st.
If you want factor offensive and defensive rebounding together, Utah rebounds 55.4 percent of all misses without Foye on the floor, and 46.8 percent of misses with him on the floor. You can probably guess the disparity here, but 55.4 percent would be the best in the league, and 46.8 percent would be the worst in the league.
A frightening trend in five-man lineups
If you want to move beyond just Foye, look at Utah's most-used lineups again. Take a gander at the "net points" column for the top five lineups. Notice anything strange? All of the top-five most-used lineups for Utah this year sport a negative +/-. Through December 23, Utah had played 1407 minutes this season, and those five lineups account for 575 of them. That's over 40% of Utah's total minutes being played by lineups that can be described anywhere from "barely treading water" to "unmitigated catastrophe." Yet somehow, Utah is still a .500 team. That means that somewhere in those other 800-odd minutes, there are lineups that are working like gangbusters, but for whatever reason aren't getting much run. And, news flash, most of them don't include Foye.
This trend gets to a broader issue within the Jazz organization: what kind of team do the Jazz want to be? Should they continue playing veterans instead of younger players in hopes of snagging an 8 seed and a first round whooping? Or should they let their young players take their lumps, acquire some draft picks and play for a few years down the road. Right now, the Jazz seemed to be straddling both paths.
As it is, Foye is playing over Hayward (who is a drastically superior player) and Alec Burks (who is a drastically younger player with drastically more upside). Either way, the Jazz have options that suit them better in the short term AND the long term. And yet Foye, like Hayward, still plays 26 minutes a game.
My brain hurts.
Note: All data current through December 23.
No related posts.