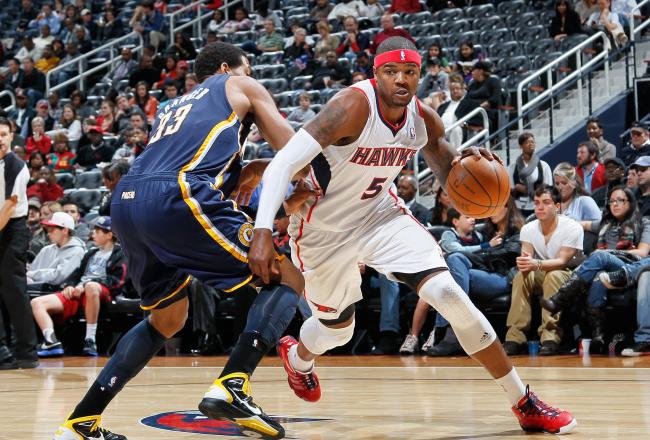 "I feel like I'm a max player. I feel I bring a lot to the table. I have a lot of versatility. For what I do and what I give this ball club, I feel like I'm worth it." – Josh Smith, to the Atlanta Journal-Constitution
Josh Smith, a free agent this offseason, believes that he is worthy of receiving the biggest contract teams can offer him. If he got his max contract, about $16.5 million per year, he would become the 15th highest paid player in the league. Is Josh Smith really that good?
Any analysis of Smith's game should begin on the defensive end. With his 6'9" and 225 lbs. frame, he possesses an uncommon combination of size, speed and mental dexterity that allows him to effectively guard multiple positions. Defense is notoriously difficult to quantitatively assess, but Bradford Doolittle's latest attempt to measure perimeter defense ranked Josh Smith the best in the league, ahead of elite wing-stoppers like Andre Iguodala and Tony Allen. Despite being a bit small for a power forward, Smith is a pretty effective post defender as well. In 96 post-ups this year (according to mySynergySports), Smith's opponents only shoot 38.5%. He also fouls very rarely, 6.3% of the time, while (along with his team) causing a turnover on a full 25% of post-up attempts.
Smith is averaging 1.3 steals and 2.3 blocks per 36 minutes this year, which is right in line with his career averages. The only other players to do that for their careers are Hakeem Olajuwon, David Robinson, Ben Wallace and Andrei Kirilenko, winners of a combined seven Defensive Player of the Year awards and 26 All-Defensive Team selections. Smith has been voted to the NBA's All-Defensive 2nd Team once, and he probably should have made it a few more times.
The same combination of size and strength that makes Smith elite at defense makes him a matchup nightmare on offense—too fast for power forwards but too strong for small forwards. His post game is solid and he has a great first step to the rim. In addition, Smith is an above-average ball handler for a big, and a gifted passer. In fact he has the highest assist percentage of any power forward or center. It isn't clear why Atlanta rarely runs any sets that feature Smith passing from the high post. Then again, very little is clear about Atlanta's offensive "system".
Smith handles the subtleties of the game well, which, combined with his athleticism, makes him a truly remarkable player. Really, there is only one aspect of offense that Smith is bad at, but unfortunately it is the easiest one to notice: shot selection.
Possession after possession, game after game, Smith bails out his overmatched defender with his poor shot selection. Smith is shooting 78% at the rim and 27% on jumpers this year, yet he takes the same amount of these shots, five each, a game. He also chucks two 3-pointers a game, at 27%, for good measure. When Smith moves hard to the basket his speed is usually too much for the power forward guarding him — recall him abusing Brandon Bass and Kevin Garnett off the dribble in the playoffs last year — but he squanders all that when he shoots a contested 18-footer.
The best year of Smith's career, 2009–10, doesn't look that different than the rest of his career, except for his shot selection. That year he only shot 7 3-pointers all season, an historic change in behavior. This year he is on pace to shoot 165. In 2009–10 Smith also took fewer long 2s and more shots at the rim. For an as of yet unexplained reason—was it coaching, a teammates advice, Smith's own decision or something else—for one season and one season only Smith gave us a glimpse of his tantalizing potential.
Given eight seasons of evidence that Smith is a brick layer and one that he is an efficient offensive machine, the smart money says Smith, to paraphrase Dennis Green, is who we think he is. But what if he wasn't? What if, instead of taking better shots, Smith simply took fewer shots? In other words, what if Josh Smith were Tyson Chandler?
Tyson Chandler is a "basketball minimalist"; his lack of offensive skills paradoxically makes him incredibly good at offense. Because Chandler is so offensively limited, he only takes the shots he knows he has a very good chance of making. Most people would agree that Josh Smith is a more talented and well-rounded offensive player than Tyson Chandler, but doesn't that really say more about how frustratingly little efficiency is valued? What good is offensive "talent" if it is utilized to take the worst shot in basketball? How much better would Josh Smith be if cut jumpers out of his game, and attempted 10 shots a game instead of 16?
Josh Smith will probably receive his max contract. There are ten teams projected to have enough cap space to offer it to him, and a weak free agent class sees only two players (Dwight Howard and Chris Paul) undoubtedly better than Smith. With $40 million worth of cap space burning a hole in their pocket and designs of luring Dwight Howard—who is from the Atlanta area and was the best man at Smith's wedding—it is likely that the Hawks re-sign him. If that happens, we may never know what could have been.
In an alternate universe, the San Antonio Spurs would use their cap space to unleash a Josh Smith we could only dream of. Playing for Gregg Popovich and beside Tim Duncan and a bevy of three-point shooters, is it impossible to imagine Smith curtailing the largesse from his game? Could he become another in an assembly line of veterans sacrificing shot attempts for the greater, more efficient, good? Or what if Houston signed Smith to surround him with their purposefully constructed roster? Ignoring for a moment the alluring defensive combination of Omer Asik and Josh Smith, the Rockets have completely committed to eliminating "in-between" shots from their game. Could stat mavens Daryl Morey and Sam Hinkie convince Smith that by eradicating inefficiencies from his game, he could become one of the very best?
I don't know where Josh Smith will take his talents, but for the sake of realized potential, I hope it is not back home in Atlanta.
Related posts: