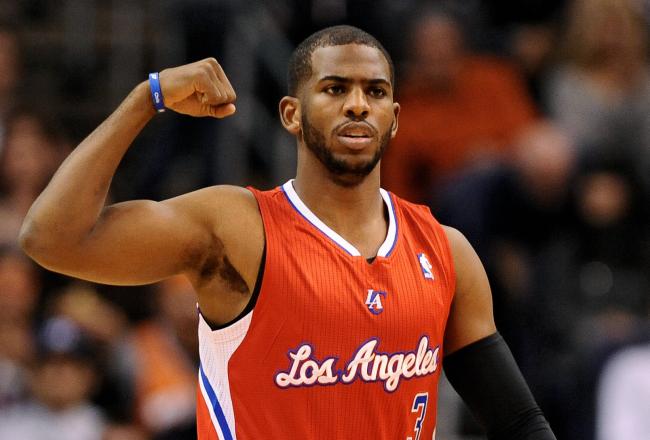 On TrueHoop, Kevin Arnovitz profiles the strain of defining and embracing a system of play in Los Angeles. Here's what he said about the Clippers:
Back in November, when Los Angeles was engulfed in System Overload the week Brown was dismissed and D'Antoni hired, Los Angeles Clippers coach Vinny Del Negro was asked which system he deployed.

"Chris Paul," Del Negro said.

Del Negro wasn't being flip or coy. The question was straightforward, and he offered the best approximation of his team's blueprint when it had the ball — the Chris Paul System.

"All those names and all that stuff," Del Negro said of the Princeton, the spread, seven seconds or less, etc. "You just put the ball in the best player's hands."

To Del Negro and Paul, the NBA is a superstar league, and the offense they run is dictated by Paul. In the Clippers' world, his instincts take precedent over any dogma. That intuition is rooted in strong principles. Paul will probe, but he's meticulous and patient, and in the half court he'll rarely act until the defense is leveraged.

"On offense, you just try to make the right play," Paul said. "Every time I come down the court, I want to make sure that two people have to guard me, no matter what. If I'm in a ball screen, I want to make two people have guard me and then somebody is going to be open."
The Chris Paul system has its advantages — mainly that Chris Paul gets to do what he wants. But when he was hurt, we saw the difference between a system that is player driven, and a system, like the Spurs, that is driven by philosophy.
When Parker or Ginobili or Duncan — or even all three! — get hurt, the Spurs still run the Spurs stuff. They still hunt corner 3′s and move the ball and keep the spacing such that even Gary Neal can get to the rim.
But the Clipper offense struggled without Paul. Not just because Eric Bledsoe is not as good of a player, but because there was very little in the way of a system for him to fall back on. It's one thing to ask Bledsoe to step into Tony Parker's role, to be a cog (perhaps ill-fitting, but a cog nonetheless) it's quite another to ask him to tinker with and maintain the entire mechanism of motion.
See when the Clippers lost Paul, they didn't just lose their point guard, they basically lost their offensive co-ordinator. Whatever Chris Paul the coach was telling Chris Paul the player was never communicated to anyone else. That conversation was internal and, if there are definitive principles by which Paul plays, it's impossible they were fully articulated on a daily basis to everyone on the team.
Will this dynamic be damning or beneficial come the playoffs? Systems can be broken and disrupted, but so too can 6-0 point guards.
If the Clippers get knocked out in the second round — Paul has never been to a conference final in eight seasons — there's little doubt that they will seek a new head coach. What's more interesting is whether such a defeat would force their true general to seek outside counsel and accept a system that suits the team even when he's not the player at the controls.
Related posts: