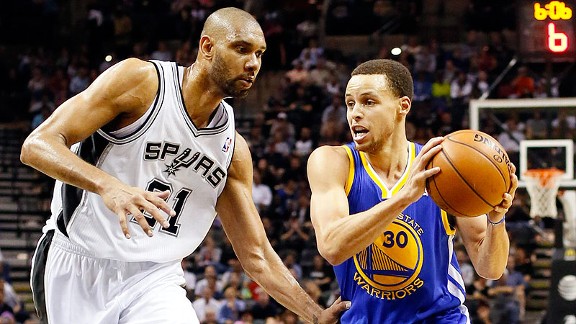 Ethan Sherwood Strauss on Warriors World:
This was the strangest subplot of Game 1: The Spurs did so much better after an ailing Tim Duncan trudged off the court. Latter career Timmy hedges less above the three-point line on pick and roll defense than ever before. Against many teams, this isn't an issue. Against the Warriors, this can be a giant problem. Most players can't efficiently uncork three-pointers off the dribble, but with Stephen Curry, the bounce of his dribble evokes the cocking of a shotgun. If Tim Duncan keeps sinking back towards the paint when Curry's defender gets screened, the Warriors will have plenty of open above-the-break 3s for their star.
Ethan's cautiously searching for reasons to be optimistic, and this is a good place to start. I've got some spare thoughts to add:
Duncan left the game with the ol' flu-like symptoms, so it's possible he'll look more spry in Game 2. But even if Duncan is moving better, the Spurs don't typically blitz pick-and-rolls, and that seems to be the only consistent way to limit Curry. The Nuggets had success with that coverage, but then again their power forwards were hyper-athletic guys like Wilson Chandler. If Duncan does come out beyond the 3-point line, it's unlikely he'll be able to corral Curry and stay out of foul trouble.
The Spurs had Boris Diaw switch onto Curry when he was involved in ballscreens. It's amazing that the same guy who ate his way from playing guard to playing center and nearly ate his way out of the league is now the special weapon for a team in desperate need of a big man who can move his feet against a point guard. C'est les Spurs.
We've seen the Spurs, and Duncan in particular, overmatched by a guard who can shoot off the dribble before. In 2010, Steve Nash (with a big assist from/to Amar'e Stoudemire) killed the Spurs on middle pick-and-rolls with Duncan defending. Nash was a great 3-point shooter, but not nearly as prolific from deep as Curry. Nash liked to work his way near to the elbow, where he could slip a pocket pass to Stoudemire to kick to a shooter. But Curry is hunting that 3-pointer at historic rates, and shoots them almost as well as Nash makes midrange jumpers … which are worth just 2 points.
Kawhi Leonard is one long dude, can he do enough to bother Curry the way OKC's Thabo Sefolosha harried Tony Parker in last year's Western Conference Finals? If there's one surefire adjustment Pop will make, it's to have Leonard spend more time on Curry than he did in Game 1. Curry admitted that Leonard's size made it trickier to shoot over the top, though he also suggested that he could drive past him at will. Given Curry's accuracy from deep, I'm sure Popovich would prefer Leonard usher him into the paint where the Spurs big men are expert at challenging shots at the last minute, rather than let him pop back and fire away.
The Spurs have let point guards like Nash and Chris Paul score big in the past rather than let them carve up the defense with assists. But because Curry makes so many 3′s, I doubt we'll see a repeat of that exact strategy. Rather, they'll probably make some adjustments to how Leonard defends Curry (which will pit Parker against bigger Warriors) and use Diaw aggressively when they can. Duncan? He'll likely remain in retreat mode, hovering below the 3-point line and taking away lanes to the rim.
As Strauss implies, there are no easy solutions for the Spurs here. You simply cannot defend Curry in the pick-and-roll using only Curry's defender, yet that was precisely the effect of Duncan's lethargic defense. Curry will drive, but he's working for a pocket of space behind the 3-pointline, a zone Duncan rarely has to worry about. Game 2 will be a lesson in how much of the Spurs' base defensive style Popovich believes he has to tweak in order to limit Curry just enough to yield an advantage for the defense as a whole.
Related posts: