In the waning moments of a Sweet Sixteen game this past March, Butler big man Andrew Smith received an inbounds pass and immediately scanned the court, desperate to make a play. As the seconds melted off the clock, Smith took a hard dribble to his right only to find his teammate blanketed by an opposing defender. With nowhere to go with the ball, Smith slowed his momentum in a vain attempt to change course, the weight from his 6'10 frame awkwardly collecting on his right foot, which somehow held firm, barely avoiding a travel. Stuck in this unwieldy position and out of options, Smith flung an off-balance shot toward the basket that didn't even draw iron.
Smith's college career ended with the same type of not-so-graceful movement that inspires doubt over his chances of a professional career, on this continent, at least. But the shifting economics of the NBA, along with crucial advancements in the science of movement, could actually make players like Smith an important resource to NBA teams.
As the new Collective Bargaining Agreement tightens it's financial grip, franchises around the league are doing everything they can to employ capable, blue-collar role players on the cheap. Finding someone to do the dirty jobs in the NBA — like rebounding, setting screens, running the floor and generally bringing consistent energy over an 82-game season — is hard enough to find when teams have stacks of cash to throw around. But most teams spend that money where they need it most, acquiring big-time talent, while using exceptions and the veterans minimum to bring in whatever veteran journeyman is left floating around. It's those spots that someone like Smith, who possesses some NBA-level skills, could capably fill with a little help.
"If I'm looking for those role players," says Brad Stevens, Smith's coach at Butler, "and it's a big, then defensively you obviously want him to be able to defend the post and guard ball screens and he's [Smith] capable — very capable — of doing both."
The 6'11", 245-pound big man actually shares quite a few similarities with current NBA veteran Jason Collins. Like Collins, a former starter turned reliable emergency big man,  Smith is an adequate rebounder with knack for defending players in the post. "That's who Andrew reminded me of," says Stevens.
Stevens was also quick to point out, that though his shooting percentages didn't reflect it, his senior center will prove to be more than capable of hitting the corner 3, a crucial shot in the NBA game. All these positives still don't make up for the fact that Smith is lacking one very important attribute — NBA-caliber athleticism.
But there are ways to unlock that extra something that makes a player NBA worthy, ways to unearth cheap contributors that support NBA rotations without tying up payroll. Aaron Nelson knows how.
Maximizing Athletic Performance
For nearly a decade, Nelson and the Phoenix Suns training staff have been building a reputation as wizards of rehabilitation. The secret behind Nelson's success is an emphasis on functional movement — natural, multi-joint, multi-plane movements that anyone from elite athletes to stay-at-home moms perform everyday.
Bending over to pick up a golf ball, squatting down to sit on a chair, or pulling yourself up a ladder are all examples of functional movement. Should one of the areas required in those motion — like your core, a hip muscle or ankle joint — be tight or weak, the whole process, what's called the "movement chain" can be thrown off. Do a repetitive activity  – like lifting your kid or leaping high and sideways for a rebound —  enough times when your movement chain has a weak link can lead to a number of issues ranging from a decreased vertical jump to chronic back pain.
Those competing at the highest levels of the sport, or in the case of someone like Smith, aspiring to do so, moving correctly is paramount. Despite gains in strength and power, if an athlete does not training for mobility — an all encompassing term that factors in range of motion, stability and flexibility — opens himself up to increased risk of injury and, most importantly for middling athletes trying to make the NBA, decreased performance.
"We're looking at any abnormal movement patterns, faulty movement patterns," says Nelson. and all we have to do to correct that is look at flexibility and try to eliminate the short tight muscles and strengthen the weak muscles."
This stuff matters. "By not correcting the imbalances or the deficiencies that you have you might be a little bit slower in your lateral quickness, your explosiveness both vertical and lateral," Nelson points out. "Just your general overall strength suffers. Maybe you can't incorporate 30% more of your strength."
When watching Smith barely get off the ground for rebounds or even trip over his own feet at times, it's not a stretch to suggest there are certain movement deficiencies stopping Smith from achieving his full potential as an athlete. If he maximizes that potential with the help of a NBA performance specialist like Nelson, Smith has showcased enough other basketball skills that he would suddenly become a viable rotation player.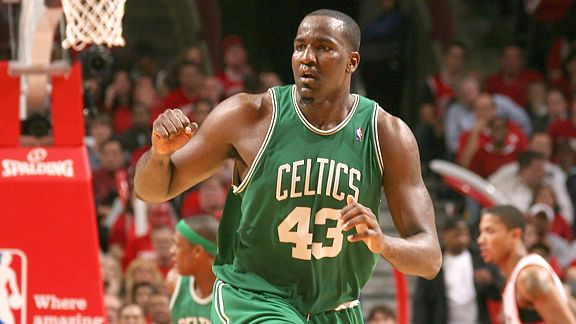 Risk/Reward
Rebuilding a player's movement patterns takes time and resources. But the payoffs can be worth it.
"A great example of that is Kendrick Perkins," says Keith D'Amelio, a former NBA and D1 strength coach and athletic trainer who now runs Nike's basketball training division
D'Amelio was a member of the Boston Celtics training staff when the team drafted Perkins just out of high school in 2003. Back then, even a proper running form eluded Perkins due to some physical deficiencies.
"When I tell you he couldn't run, he was like a deer on ice," says D'Amelio. "I can still kind of see aspects of it when he's running down the court a little bit only because I know where he was and what he looked like. He couldn't do a lot of the stuff he could do now."
Fortunately for Perkins, he was on a team full of veterans that year and not expected to be a major contributor (He ended up only playing in 10 games that season). That meant D'Amelio, an assistant trainer at the time, and the rest of Boston's strength staff had the time and support to make drastic improvements to Perkins' athleticism, all with the blessing of the front office and coaching staff, an important, if not the most important, factor.
Perkins has his share of flaws, but there is no denying he can fulfill a specific role in the NBA, partially because he spent his entire first year in the league with the sole focus of working on his body. It seems possible that some like Butler's Smith, who had a fair share of not-so-graceful moments during his college days, could benefit the same way. Smith won't become LeBron James, but all he really needs is to become Greg Stiemsma to have a chance to land on a roster. But before that happens, you need all three parties — the training staff, the athlete and management — on board.
"You have the coach and the support system to allow you to do it," D'Amelio cautions,  "And you have to have an athlete that wants to work. Perk put in the time to do it."
The new CBA and finding undervalued assets
Movement training has never been more vital. With fewer exceptions and harsher luxury tax penalties, teams can no longer afford to overspend on mid-level deals for veterans. Finding cheap, productive alternatives to occupy important bench roles is now, perhaps more than ever before, the hardest task a NBA front office faces. After all, it's easy to discern star talent, but vastly more difficult to identify the marginal differences between a ninth man and a player unable to produce at the NBA level.
The Houston Rockets are one of the league's best at organizations finding these hidden gems, polishing them off, and unlocking their true potential. For the Rockets, young, reserve center Greg Smith has been one of their biggest finds. While teams like the Bucks spend millions on journeyman like Drew Gooden in a short-sighted attempt to fill out their frontcourt rotation, the undrafted rookie from Fresno State completed a productive first season while playing over 15 minutes a night for a Houston team that made the playoffs. The best part for the Rockets is Smith did all that while making just $762,000 for his services this year.
Like the Rockets Smith, Butler's big man may provide hidden value as well. But Andrew Smith's unrealized potential isn't something that can be uncovered by numbers, only by movement.
Can Andrew Smith get his shot?
Outside of select staffs like Phoenix, very few teams either emphasize or empower their strength coaches and athletic trainers within their organizations. So though more and more NBA front offices rely on analytics to identify hidden talents, few, if any, actively seek out players whose potential lies in the hands of a subjective science. That means any GM looking to bring someone like Smith into their organization would have to sell their owner on paying thousands of dollars to a kid that no hard data source can accurately predict will pay dividends in the near future, if ever.
But as the Suns staff and D'Amelio can attest to, the right organization, with an industrious player and the proper support system can alter the arc of a player's career, even if there is no numerical formula to prove it. If a team takes a shot on Smith and he pans out, they've found themselves a cheap, young big man for their rotation.
In today's NBA, any avenue to uncover undervalued assets like this is worth investigating.  As a harsh new financial landscape takes shape following the new CBA, it may finally be the time for NBA teams to move forward on movement.
Related posts: