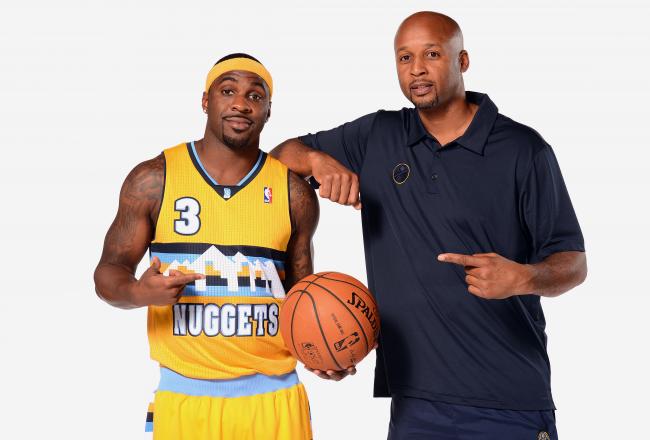 It may be a few seasons before the full repercussions of what happened in Denver at the end of last year are fully realized. George Karl (2012-3 Coach of theYear) and Masai Ujiri (2012-3 Executive of the Year) worked together to assemble a roster built specifically to play Karl's uptempo, slash-and-kick style. Tactically, coaching in the NBA is generally about two things: 1) knowing what wins (eg– FTs, corner 3′s, layups) 2) figuring out how your players can get your team as many of those as possible.
Karl and most of his players believed in his style, which routinely resulted in more layups and free throws than just about anyone else in the league. Ujiri made sure Karl had speed demons like Ty Lawson, Andre Iguodala and Kenneth Faried to fulfill his strategy.
The 2013-14 Nuggets have started the season 0-3 and failed to score 100 points in any of their games. They are in the back of the pack in FT rate and average 10 fewer shots at the rim per game than last season. It's all early, obviously, and last season's Nuggets also started 0-3. But things feel different this year, as new coach Brian Shaw tries to impose his more half court oriented system on a team never designed to play that way.
If the Nuggets 57-25 record flips in terms of wins and losses, come back to these quotes in Mark Kiszla's October 30th article in the Denver Post:
"Coach told me he wanted me to be aggressive. And I told him, 'Well, where do you want me to go?' How am I going to be aggressive if I beat my man, and then I have to beat the defender of our big in the lane, if he's standing in the way?" Lawson said. "The level of frustration was pretty high.

"It's been a big adjustment," said Lawson, who added he is slowly learning to pick new spots and ways to attack the defense. "I like to penetrate and touch the paint. It's a little bit harder when there are bigs in the lane, waiting for the
post (pass). There's really nowhere for me to drive. Now, I'm working on passing inside and then cutting. I never really cut during my first couple years in the league. Now, cutting off the big could actually get me an easier shot, either from the corner or with a baseline layup. This could take my game to another level, make it more multidimensional."
—
"Playing inside-out and throwing the ball in to our big men as a first option is not the most advantageous way for us to play as a team. I understand that," Shaw said. "But we have to establish an inside game. That means throwing the ball inside and cutting off that pass, spotting up and stretching the floor in order for our team to have the correct spacing in order for us to do some of the things we need to do offensively.

"I understand completely why George Karl played the way that he did: 'You big guys, you kind of stay out of the way and just wait for drop-off passes, get the rebounds and go set screens.' And that still is part of this offense. But I want to build confidence that when we throw the ball inside to have a game plan."
Sure, ideally the Nuggets would love to play just as fast and free as they did last year and, like Houston, have a post option to go to in the half court. But you can't make JaVale McGee a viable low post threat just by giving him opportunities. What he does is catch and dunk and Karl's offense limited him to what he did well.
The Nuggets are going through a rebuild in style. When the previous style didn't work, such an overhaul can be immediately effective. But the Nuggets won 57 games last year, then got rid of arguably their best player in Igoudala. If that's is how they want to rework a winning formula, they may not be far away from rebuilding the entire roster.
Related posts: